The  UUBridge Board of Directors
The board is responsible for the general supervision and direction of the affairs of the congregation and is empowered to establish policies and procedures for the operation of the congregation.
Meetings of the board are held monthly and are open to members of the congregation as observers.
Each of the nine board serves members serves a term of three years.  One third of the board members are elected each year.  Board members may serve no more than two terms in succession.
Officers of the board are elected by the board.  For more information on the UUBRidge Board of Directors, see the bylaws or contact
President of the Board, Howard Weingarten (term ends 2016)
<president@uubridge.org>, 540-227-3037 Ext. 1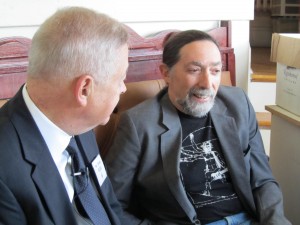 Vice President, Jay Allen (term ends 2014)
Secretary, Don Loock (term ends 2015)
Treasurer, KC Dickman (term ends 2014)
Lauria Bush-Resko (term ends 2014)
Frank Dixon (term ends 2016)
Bette Hileman (term ends 2015)
Emery Lazar (term ends 2016)
Mike McCormick (term ends 2015)