Our Music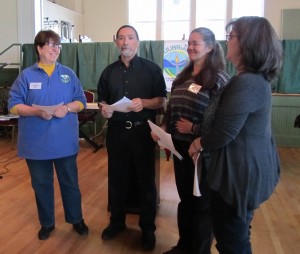 The UUBRidge Singers and Players, drawn from the congregation, provide nearly all of the music at our services. They perform the opening music and the offertory, and lead and accompany the hymns. The repertoire ranges from 16th-Century a capella choral music through folk,  jazz, and pop, to the latest rock—whatever may fit the theme of the service. Instruments played by the group include guitar, dulcimer, banjo, bass, keyboards, recorder, and EWI (Electonic Wind Instrument).
Core members of the group range from university-trained musicians to those who "just like to sing".  Any member of the congregation who attends a rehearsal can perform as part of the group at the next service.
Rehearsals are every Tuesday at 7:45; join us!