Our Services
As you will see on the "What happens" page, a large part of our service has the same format most Sundays.
What varies significantly is the sermon or talk.  On about half the Sundays from September through June, the sermon is given by our minister, Russ Savage.  On the other Sundays, the sermon or talk is given by a lay person or, occasionally, a visiting UU minister.  Lay services may feature a member of our congregation or an invited guest speaker.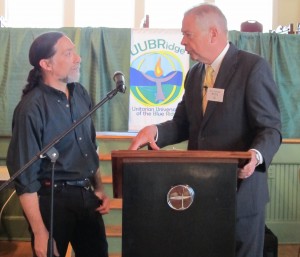 The topics of the talks and sermons at our services vary widely, in keeping with the variety within our membership.  You can get a taste of this by going to the vimeo link below, which will take you to a video collection of many of our past services.
While most services center around a talk or sermon by a single person, we also sometimes have a group of our members talking about a common life experience such as motherhood or aging.  We also have services that are more experiential, involving the whole congregation.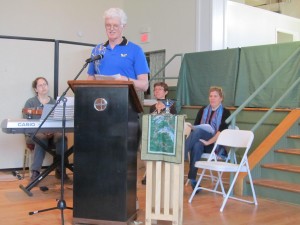 Throughout the year, our congregation celebrates particular events with our own special rituals such as the end of year ceremony where we burn the concerns we want to leave behind as we enter the new year.  We have ceremonies for each solstice and equinox and special observations on Mothers' Day, Fathers' Day, and some other holidays.
The variety within our congregation and the variety of services means that we each find many services that are very meaningful and a few that aren't our cup of tea.  We encourage you to attend several services.  If you don't like the first one, there is a very good chance that you will like the next.
Upcoming UUBRidge Services
AEC v1.0.4
Past UUBRidge Services
Videos of nearly all of UUBRidge's sermons and talks are available at http://vimeo.com/user4770705.
AEC v1.0.4