When you come
When you first visit a service of the Unitarian Universalists of the Blue Ridge, you will be greeted at the door by a member of our Membership and Hospitality Committee and invited to make a nametag for yourself.  You'll notice that all of us wear nametags including the children.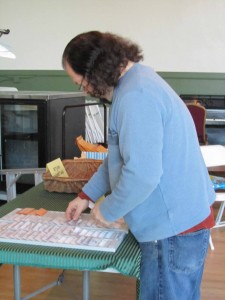 You'll also notice that we are dressed in everything from jeans to a very casual "business casual."
If you come with children, chances are someone from the Religious Exploration Committee will make it a point to greet you and give your children a special welcome.
Before the service begins you will see a number of people working away setting up the musical instruments and sound system, putting up our banners, setting up tables for membership information & name tags and for food and beverages for our social hour.  We look forward to the time when we have a more permanent location and don't need to do this.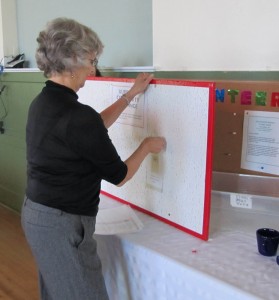 Whoever isn't setting up before the service or among the musicians rehearsing will be quietly chatting.  We do our best to introduce ourselves to newcomers, and you are also invited to strike up a conversation.
Around 10:30 a.m. the group will slowly gravitate toward the seating area, and at the sound of the chime, the service begins.
After the service we have a social hour where we enjoy the treats that members of the congregation have brought and visit.  If you see a small group going off or congregating in a corner, it is probably one of our congregational committees.  Living in a large four-county area, after service is often the best time for our committees to meet.
Eventually some folks will begin to leave, others will start packing up materials and taking down the tables, and last but not least the floor will be swept and spot cleaned.
Another UUBRidge Sunday morning has come to a close.